Thank you to everyone who attended and who has made Aviation Finance's conference at FCSDublin, 2018 an exciting and transformative event.
The
Aviation Finance Conference 2018
took place on October 2nd-3rd in Dublin, Ireland, and heard from an exceptional line-up of industry thought leaders on how the aviation finance eco-system is set to evolve in the context of potential demand patterns for aircraft financing amidst record order backlogs and increasing OEM run rates.
We look forward to seeing you next year - October 15th & 16th, 2019 at Dublin Castle.
T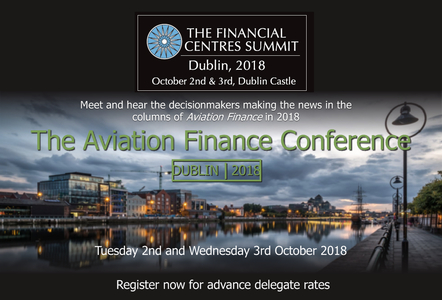 Click here to book your place at the Aviation Finance Conference.
The conference provided an unique analysis of the medium and long term capital markets and structural issues facing aircraft financing, with sessions on leasing, trading, aircraft assets, and supply side issues.
AFC,2018 , chaired by
Aviation Finance
Contributing editor Joe Gill, explored essential business concerns facing aviation finance, such as the cost and availability of capital from different sources, the likelihood of fundamental shifts in the composition of the aviation capital market, the real impact of interest rate changes in the short to medium term and the role to be played by lessors as they continue to evolve.