Pat Hannigan took over as CEO of the global leasing platform CDB Aviation just before the Covid-19 pandemic erupted. In an extensive interview with Aviation Finance he discusses how the company has negotiated through this turbulent time, the reasons why he is optimistic about the long-term outlook for lessors and their future role in supporting their customers, and what the future may hold for both lessors and airlines.
Pat Hannigan joined CDB Aviation as Chief Commercial Officer in 2017 and when he assumed the mantle of CEO last January he had planned a busy year ahead. His agenda included building up the C-suite of the business, which had just been moved fully to Dublin, with the latest senior appointments of Craig Segor to the newly created position of Chief Investment Officer, of Peter Goodman to the Chief Marketing Officer role and of Brendan O'Neill, who had just joined as its new Chief Financial Officer from DAE.
On the plus side, Hannigan says, two of those three were already familiar with the business's development plans. 'We had put a platform in place to allow us to do business throughout the cycle – to place new aircraft from our orders with the OEMs, to re-deliver second hand planes and to provide sale and leaseback and PDP products for our customers, as well as having a very active trading platform.'
Its trading activity included a strong focus on doing deals in China over the previous three years, as well as transactions involving buying and selling portfolios of aircraft with other lessors and the very active trading community elsewhere in the world. 'So coming into this year it was pretty much going to be business as usual and our prognosis at that point was that it was going to be a tough year in which to grow the business,' Hannigan recalls.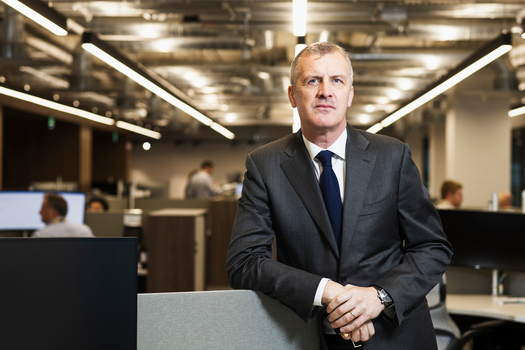 'My main focus now is making sure that our customers, who we've backed for the last number of years,
come out the other side of this' - Pat Hannigan, CEO, CDB Aviation.
'There was a lot of money chasing yield. Over the last three and a half to four years we had pulled out of many deals, not just on pricing but on our concerns over basic terms and conditions being sought which for me, as an operating lessor who's been in the industry for a long time, just didn't sit well. We saw other lessors willing to do what we regarded as silly things on the technical side or the legal side that would just lead to problems in the future.'
'I think you have that in lots of industries where you have money chasing deals, looking for yield; they're not focused on the piece of paper and the transaction they're inking and which they will have to stand behind in the future. We take a lot of time to analyse and understand a transaction for the full life cycle of the lease and, quite frankly, we were concerned by a lot of the stuff that was going on. So we didn't bid on and we didn't win a lot of those deals.'
The arrival of Covid-19 changed everything, however. 'In terms of trading in the first three months of the year we did very well, despite the headwinds against us, and we closed a lot of trading deals up to the end of June. But trading pretty much closed down after that. Placement of aircraft became really difficult because most airlines didn't really know what the situation was going to be for 2020, let alone 2021 and beyond, so those conversations slowed down. And the MAX situation, which was something we were already dealing with coming into the year, was creating further uncertainty over placements for the future.'
Covid-19 has forced his team to move into crisis management mode and Hannigan says its breadth, depth and experience were crucial at this point. 'It's been hard on our team this year compared to last year, because they've had to do everything and much more of it than in the previous years. They were engaged in trying to organise deferrals for airlines that were struggling to pay their monthly rentals, they had to transition aircraft, do sale and leasebacks on new deals, try to place second hand airplanes … Everything was happening this year that could possibly happen.'
Like others in the industry there was also a strong focus on strengthening the balance sheet and ensuring the availability of liquidity. In total CDB Aviation has raised about $3.24 billion of debt so far this year, including a $0.5 billion bond issuance in Hong Kong within the last few weeks.
But once these important boxes have been ticked the real challenge for a platform is to position itself to support its customers and to seize opportunities where they arise, Hannigan emphasises. 'To be honest it's impossible to predict what comes next, so I think it's critical to think more in terms of analysing demand in the market and being nimble in responding to changes. That's what we've set ourselves up to do.'
Over the last three and a half to four years we had pulled out of many deals, not just on pricing but on our concerns over basic terms and conditions being sought which for me, as an operating lessor who's been in the industry a long time, just didn't sit well.
'In times like this it's critical to constantly interact with airlines. That's difficult to do working from home environments but we've probably done it more intensely this year than in any other year because our customers are struggling and trying to find a route out of this.'
That interaction also allows a lessor to gauge exactly how things are changing in markets which are not all changing at the same speed. 'In South East Asia, in Vietnam, for example, there's a large amount of domestic travel happening now. There's a very low infection rate in that country and there's a significant amount of travel – not very much international travel but a huge domestic market. China is actually 2 per cent ahead of last year currently, in terms of number of flights per week,' Hannigan points out.
'So what we have to do as lessors is worry less about reading the Wall Street Journal or the Financial Times on what might or might not happen on vaccines and focus on the information that's at our fingertips every day of the week and make decisions based on that.'
Hannigan is cautiously optimistic about the medium- to long-term but still wary about what the immediate future still has in store. 'We're still in tough times coming to the year-end. In some jurisdictions there'll be a lot of flying over the holiday season that will pull airlines through for the next few weeks but January and February can be tough months for the aviation sector, as we already know,' he warns.
'So I wouldn't overplay the optimism. My main focus now is making sure that our customers, who we've backed for the last number of years, come out the other side of this – because if they don't survive that's not a great outcome for either of us.'
'But I definitely think the vaccines have moved the dial. IATA's forecast of things not returning to normality before 2024 was, frankly, a pretty grim outlook and it may yet prove to be correct. Obviously I don't know, but I think the success of the efficacy rates in the first two vaccines and potentially a third and more, shows things are moving quickly. So that's obviously changed the game, and very much for the positive, I would have thought.'
He is also convinced that there is a strong consumer appetite for travel that will help the industry to recover. 'I think VFR and the leisure side of the business has pent up demand and there's been a lot of evidence of this in the past few weeks. One recent study I saw, which spanned all age groups, asked people what was the one thing they first wanted to do when they get out of Covid-19 restrictions. Leisure travel was their number one priority, well before restaurants or anything else. And I've seen that anecdotally supported from a number of other sources.'
'I talk to and listen to a lot of CEOs of airlines around the world, just to get a sense of where their minds are, and there is evidence in a lot of jurisdictions of pent up demand which is currently restricted. If the impact of the vaccines is positive a lot of that will be unleashed.'
'I think for obvious reasons business traffic will take a bit longer to come back but I am pretty certain that in the longer term it will. I'm a firm believer that when you're doing business you need to see people, you need to interact with them. When things get back to normal people will want to do business face-to-face again, so they will get back on airplanes.'
My main focus now is making sure that our customers, who we've backed for the last number of years, come out the other side of this – because if they don't survive that's not a great outcome for either of us.
That combination of pent up demand and an easing of restrictions could result in a big increase in traffic, Hannigan suggests. 'There's still a lot of logistics to sort out, I understand that. It's relatively simpler on the domestic front but once you get into regional and international travel it's a bit trickier and will take longer. But I do believe the vaccines have moved the time frame forward when the market will be back to levels that we would have been used to before the pandemic.'
Hannigan also sees the relatively small number of airline collapses so far to be an encouraging sign. 'One of the things I've found fascinating in the last few months is that very few airlines have actually gone out of business. There are a number who have filed restructuring arrangements or are in Chapter 11 type arrangements in many jurisdictions around the world, but very few have actually gone out of business. Airlines have gained access to funds wherever they can. Their priority for the last few months, not unlike the lessors, has been to boost their balance sheets, ensuring they have access to enough liquidity so they can pay their bills.'
'Some of that funding has come from governments; they've been very active as we have seen, putting in something like $160 billion over the last year. So from that perspective airline balance sheets will be stretched. But at the same time cost bases will have been reduced significantly, too, and that's likely to make the lessor community even more relevant in the future. Instead of buying airplanes, airlines will put their capital to use paying back government loans first, I expect, because that funding will have come with more restrictions on management teams. Then other forms of private debt will be high on their priority list … and therein lie potential opportunities for lessors going forward, or even for placing aircraft from the OEM order books of lessors instead of carriers ordering aircraft themselves.'
On the other hand, he notes, debt pricing has come back quite a bit in the last few months. 'Throughout the Covid-19 experience we have seen plenty of money flowing into the US and global economy because of quantitative easing. Bond spreads started out significantly high in the March/April time frame then slowly came in as the year progressed. And as we went through different phases of the pandemic in different jurisdictions throughout the world we saw bond spreads coming down. So people have been able to access markets. At the same time, they've taken on a lot of it and they will have to pay it back, so that too could be of relevance to us in the future. That's hard to assess, but from where we sit now you'd think that's the logical sort of outcome.'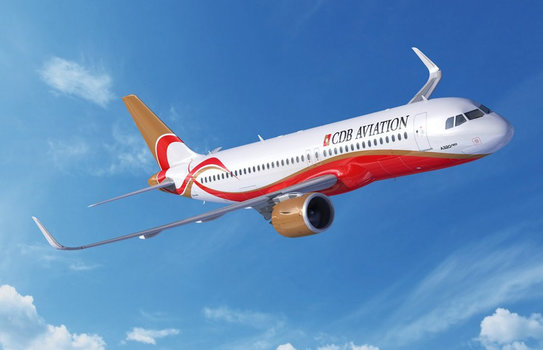 'Newer technology airplanes, is where as a lessor we need to be. That's why we have close to 20 in our fleet now that have delivered and about 150 more on order.'
Sale and leasebacks have been one channel of opportunity that has proved particularly attractive to CDB Aviation in this climate, supported by the sovereign nature of its Chinese state-backed ownership and the solid nature of its capital base. 'We've been very active in the sale and leaseback market this year, which has probably brought some of our growth forward from 2021 and beyond. In rough numbers, we did over 40 aircraft this year on sale and leaseback. Some of those are existing and some are new customers, with a concentration of top tier assets with top tier credits.'
'Because this is a very difficult environment we've focused on the airlines with the strongest balance sheets and with the business models that make the most sense for the regions in which they operate. We've done all the disciplined appraisal that we'd usually do, but with a particular focus on liquidity and access to liquidity. And clearly doing sale and leaseback gives them an extra string to their bow while for us it has pulled forward some of the growth that would normally have taken much longer.'
In the first half of this year CDB Aviation cancelled 29 MAX aircraft, deferred the deliveries of about 20 aircraft into 2024/25/26 and converted its MAX-10 orders to MAX-8s. It now has direct orders outstanding with Boeing for over 70 MAX aircraft.
'Interestingly, a lot of the work on the cancellations were pre-pandemic,' Hannigan says. 'It was a legacy issue that we needed to address, taking into consideration what had happened with the MAX and what Boeing were trying to do with their skyline to make it more efficient. They haven't been making airplanes and their focus has to be on making sure that they get the airplanes sitting on the ground all over the world back in the air again, then delivering the ones that are sitting in the production operations in the US that haven't even been delivered to the airlines yet. So that's their number one priority, therefore they were looking at optimising their skyline longer-term, because they knew that ramping up production wouldn't be easy, and we were part of that solution – it worked for Boeing and it worked for us.'
Reflecting on the lessons that lessors may have learned from the pandemic, Hannigan thinks one of the big ones is the need for strong teams. 'I think people will have learned over the last few months that if you don't have a team in place that can manage repossessions, redeliveries, transitions, dealing with deferrals – the real nuts and bolts of leasing – if you don't have the people who can make those decisions and carry them out, it can cost an absolute fortune. All of a sudden, these low yielding deals that some of the new money signed up to are not just suffering yield compression, they're creating losses. So I expect those people are going to learn some lessons throughout this process and I think the returns to the shareholders will be heading south very quickly. They'll be struggling to manage airplanes without the necessary resources and we may see them exit the industry in the long term.'
But the other side of the coin, he adds, is that there are some very strong leasing companies who will come well out of this crisis. 'Those lessors with strong shareholders, good management teams and well experienced people within their business generally will navigate this crisis like those that have come before. They'll come out the other side of this offering all the services that airlines want from the leasing community.'
One of the most important lessons of the pandemic, Hannigan emphasises, is the value of having a solid shareholder who facilitates access to capital at good pricing, so it can support its customers when they need it most. 'I've seen it time and time again, it's the strength of your shareholder that makes the difference, because that dictates your ability to continue to raise capital, to support your customers, to support deliveries and to be able to continue repaying your debts.'
'Even though the underlying treasury rates dropped this year the debt spreads for a lot of lessors went out very wide this year so they didn't benefit from the drop in the T rates and their overall cost of debt went up. Interest rates went down some 40 basis points this year from last year and 60 basis points from the year before, but the spreads widened.'
One of the most important lessons of the pandemic, Hannigan emphasises, is the value of having a solid shareholder who facilitates access capital at good pricing, so it can support its customers when they need it most.
Hannigan thinks, too, that consolidation of larger strong entities with smaller platforms and portfolios is a distinct possibility. 'Everybody that survives this will be looking for those opportunities if they come up,' he says. But he cautions that it can be very hard to analyse a portfolio in the current environment because there's so much uncertainty about the airline customers' leases underlying them.
'For any owner of equity in a leasing company, selling at the bottom of the cycle is not the most sensible thing to do, so I think they might wait a bit to see what happens next year before making any decision. Ultimately, unless they're being pushed to do it they will only react when they're in a situation where they think they can get some value for their assets and platform. So unless they're distressed they'll probably wait to see whether there's an upside to the vaccine situation and have a better idea of what the cash flow situation is for their platform. It will only be then, if they want to do it, that they may quietly find a buyer.'
On the question of impairments to asset values, Hannigan draws a sharp distinction between new and older technologies and between narrowbody and widebody aircraft. He observes: 'Historically, when you have these sort of black swan events certain aircraft types end up getting retired sooner than they otherwise would have been. So there's been a lot of discussion recently about A340s, 747s, even the A380s being sent to the desert. We monitor closely the numbers of airplanes that are in storage versus in service at any given time. What is very marked is the number of new technology neos that have come out of storage since March/April. There's no doubt about it, the trends that existed before Covid-19, ie the adoption of newer generation airplanes, is where as a lessor we need to be. That's why we have close to 20 neos in our fleet now that have delivered and about 150 more new technology narrowbodies, both Airbus and Boeing, on order.
'However, what happens next in terms of demand will be interesting because the 737ng and the A320ceo, in particular, are really efficient airplanes and fuel prices are low. And on the other side of the equation you've had a slowdown in the manufacturing of A320neos on the Airbus side, they're down to 40 a month on a production basis, and the clearly the MAX has not been produced for a long period of time.'
'It will take a while for both of those manufacturers to get production rates up again, given that there's been a lot of job losses within the OEMs and a lot of cuts in their suppliers as well, enforced by Covid-19. So higher production levels will take a long time to come back if demand kicks back again as a result of effective uptake of vaccines around the world. You could quite suddenly find there's not enough of these new technology planes to satisfy the demand, so there could be a demand for existing technology aircraft as well.'
'It gets a bit trickier, though, when you consider existing technology widebodies. If you look at the way valuations have changed this year, certain types of assets have taken a real beating, but the neos, the technologies we're interested in for the future, have held up very well in terms of valuations. So you won't see impairments on them in the books, but you will see the announcements of impairment charges driven by older technology assets, with their current market values dropped to a level versus their baseline values that we probably haven't seen in a very long time.'
Hannigan says that CDB Aviation has put an increased focus on building relationships with the OEMs this year. 'It's easy to order airplanes. It's much more difficult to make sure you take delivery of them, give them to a customer and make a good return to your shareholder. That may sound easy, but you have to make sure it happens sequentially, so we have developed some very good relationships with Airbus and Boeing this year and we value those relationships – and I think they value them too. It's a two-way thing, we want the airplanes for our customers and they want to have us supporting them when it's tough, as well. I certainly don't take any negativity out of our order cancellations with Boeing this year because it worked for both parties. We've done further deals with them since then, which shows that this is a long-term relationship; after all, their success is our success.'