Virginia Fox, the
 Chief Risk Officer at GECAS provided a comprehensive description of the global lessor's risk management model in an address to AFCDublin, 2019 this week. GECAS has evolved its approach over the past two decades, she explained.
Fox told AFCDublin, 2019, that over the 23 years since she joined the company there had always been a strong focus on risk and portfolio management embedded in the business.
Over the last 20 years it had evolved, with turning point reached in 2008 after the GFC when capital became regulated by the Fed 'and drove risk management into overdrive'. GECAS developed better analytic capability as a result, even though it did introduce a huge amount of bureaucracy into the business, which made it less nimble. 'Luckily we emerged from regulation in 2016 and we as a business were able to take the positives out of that and tailor it to suit our business needs.'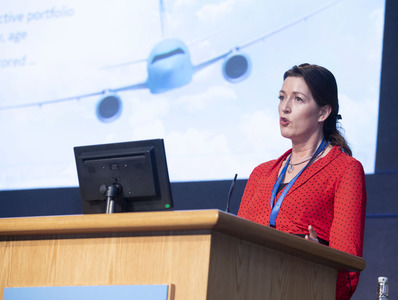 GECAS' Virginia Fox: 'In terms of country risk it comes down to simply can you get your assets out'.
Essentially risk management in GECAS focused on three distinct areas, she said. 'It's all about corporate governance, risk control, setting limits around your risk appetite and that's focused more or less on the quality of your portfolio, credit concentration limits, geographic reach and spread, and the types of asset category we're invested in.'
At the heart of it was the underwriting team. Some of this team was co-located in the regions with the commercial teams and focussed on understanding the transaction and the customer. Meanwhile a centralised group focussed on fleet strategy and valuations. 'It's very important to get the asset types right. Over the years we've built up a huge amount of analytic capability in this area,' she said.
GECAS had also developed its own in-house approach to examining the projected cash flow of every asset it owned over its projected life. 'That ultimately drives our impairment policy, our long-term residual outlooks and also helps drive our decision making processes on transactions,' she said.
There were three components to GECAS's investment framework: credit, asset and country risk.
'Asset is key here,' she said, 'with a defined discipline about how much you are willing to pay for those assets.' In a lot of decisions the company was inherently taking long-term risks, she noted.
The company also had a clearly defined exposure appetite by customer and, she noted, in the market 'we see a lot of transactions that just don't take into account the underwriting and credit risk that's involved. The importance of collecting maintenance reserves, in particular, was particularly important, she added.
'In terms of country risk, it comes down to simply can you get your assets out and we saw that earlier this year in Brazil. It should have been pretty straightforward with Capetown. It took a lot longer than we expected.'