October 15th 2019:
#AFCDublin 2019 featured interviews with Aercap CEO Aengus Kelly and CDB Aviation's CCO Patrick Hannigan, conducted by
Aviation Finance
's contributing editor Joe Gill. Following an address by Virginia Fox, Head of Risk of GECAS, on the ever-important matter of risk management, AFC2019 features the first ever CFO Forum, featuring a panel of the world's top aircraft lessors on the 'finance function of the future', chaired by EY's Danny Buckley. More details:
here
.
AFCDUBLIN, on October 15th.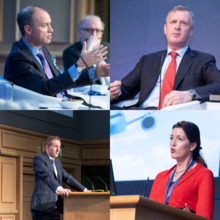 AFCDublin 2019