The Japanese-owned lessor's first venture into the bond market went sufficiently well that its CFO is now confident to state there will be more in the future.
SMBC Aviation Capital's inaugural issuance of senior unsecured notes won the Finance Dublin Debt Capital Markets Corporate Bonds Deal of the Year Award. The debt bond, issued through its wholly-owned subsidiary, SMBC Aviation Capital Finance DAC, involved the sale of $500 million 2.65 per cent senior unsecured notes due 2021.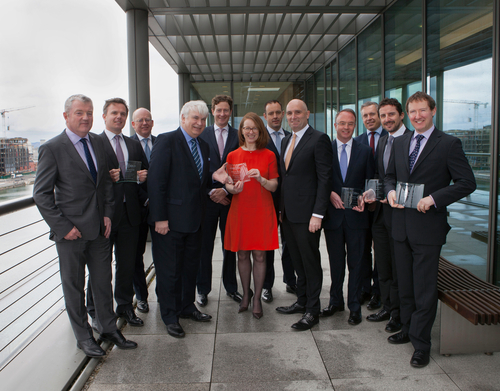 [L-R] McCann FitzGerald's winning team: Niall Powderly; Philip Murphy; Eamonn O'Hanrahan; Ken O'Brien (Finance Dublin); Stephen FitzSimons; Georgina O'Riordan; Aidan Lawlor; Barry Devereux; Fergus Gillen; Tom Dane; Adrian Farrell; Josh Hogan.
This was investment grade rated and marked a significant new funding source for one of Ireland's major aircraft lessors. The successful issuance underscored the Japanese-owned lessor's commitment to diversifying its sources of funding and clearly demonstrated the market's confidence in its growth plans.
The company's Chief Financial Officer, Barry Flannery, said the issuance was significant from the company's point of view because it achieved further diversification of the company's financial base which makes sense in light of the continued growth of the business and amortisation of existing debt. 'It makes absolute sense for us to access the capital markets and we regard this as the beginning of a series of issuances over time. We will be a repeat issuer from here on,' he said.
Completion of the issuance came as SMBC Aviation Capital announced its results for the fiscal year ended 31 March 2016 which saw revenue surpassing $1 billion for the first time, up 15 per cent year on year to $1,046 billion, while operating profit rose 22 per cent to $530 million. The issuance was supported by Fitch Ratings and Standard & Poor's affirmation of the company's long-term issuer default rating at BBB+, making it is one of the highest rated aircraft lessors in the industry. It also followed the completion earlier in the year of a $600m Revolving Credit Facility with a consortium of five major banks.
Georgina O'Riordan, Partner at McCann FitzGerald, said of the deal: 'This debut bond issuance was a huge success. The bond was eight-times oversubscribed, demonstrating the market's confidence in SMBC's business, its management team and its growth plans. SMBC is one of the highest rated lessors in the industry (Fitch has since upgraded its credit rating from BBB+ to A-) and the issuance also illustrated SMBC's commitment to diversify its funding sources.'
SMBC is a leading global aircraft leasing company whose principal activity is leasing and trading aircraft. It is the world's third largest aircraft leasing company. Formerly RBS Aviation Capital, in 2012 it was acquired by a consortium of leading Japanese institutions, Sumitomo Mitsui Banking Corporation (SMBC), Sumitomo Mitsui Finance and Leasing Company Limited (SMFL) and Sumitomo Corporation. SMBC Aviation Capital's headquarters are in Dublin.
Citi was the lead arranger of the bond issuance and ther advisers were: McCann FitzGerald; Milbank, Tweed, Hadley & McCloy LLP; and Clifford Chance.
Publication Date: May 2017