The chief executive of Qantas, Alan Joyce, has been honoured by the Irish aviation industry. At the Irish Aviation Authority annual Gala Ball held in Dublin on April 1st Ireland's Minister of Transport, Tourism & Sport, Paschal Donohoe, presented Irish-born Joyce with a special award to acknowledge the role he has played in transforming the Australian flag carrier in recent years.
Originally from Tallaght, Dublin, Joyce began his aviation career with Aer Lingus in 1988 before moving to Australia in 1996, where he initially worked with Ansett Airlines. He moved to Qantas in 2000 and was appointed the first CEO of its low cost subsidiary Jetstar. He was appointed CEO of the parent company in 2008.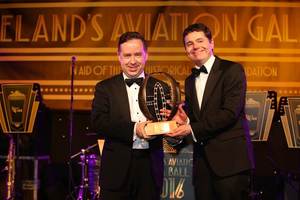 Alan Joyce, CEO of Qantas with Irish Minister for Transport Paschal Donoghue receiving the award.
Receiving the award, Joyce said: 'It is a tremendous honour to receive this recognition from the Irish aviation industry, particularly as this is where my career began. Perhaps more than any other industry, aviation is a team effort, so in accepting this honour I have to acknowledge all those I have worked with closely over the years, particularly at the Qantas Group.'
The ball was attended by over 850 guests from across the aviation industry. It was organised by the Irish Aviation Authority in aid of the Irish Historic Flight Foundation, a charity established to celebrate Ireland's aviation heritage.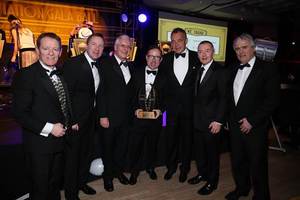 L-R: Eamonn Brennan (CEO, Irish Aviation Authority), Stephen Kavanagh (CEO, Aer Lingus), Dermot Mannion (Deputy Chairman, Royal Brunei Airlines), Alan Joyce (CEO, Qantas Group), Christoph Muller (CEO, Malaysia Airlines), Willie Walsh (CEO, IAG), Pat Byrne (CEO, Cityjet)
IAA chief executive Eamonn Brennan said the authority was deeply committed to promoting the growth of the Irish aviation industry. 'We believe there is tremendous value in supporting these activities and Ireland's Aviation Gala Ball and the IHFF are just some examples. Later this year, we will support the Bray and Foynes air shows as well as the 30th Anniversary of Ireland West Knock Airport.'
Brennan said that people attending the ball had made it possible to add a Boeing Stearman, the Spirit of Tipperary, to the IHFF fleet. This aircraft had previously been owned by Cathal Ryan, son of Dr Tony Ryan, who was a key figure in establishing the global aviation finance and leasing sector.
Speaking at the Awards, the chair of the Irish Aviation Authority, Anne Nolan, said the Irish aviation industry had gone from strength in the past year:
- IAA safely handled over 1 million flights through Irish airspace, with Dublin airport recording a 10% increase in 2015;
- The sale of Aer Lingus to IAG was successfully completed;
- Ryanair became the first scheduled airline to carry over 100 million international passengers and now has over 340 aircraft on the Irish register;
- the 'hugely successful' air finance and leasing sector has continued to expand;
- in 2015 the IAA implemented new legislation to ensure their safe operation.
She welcomed the Irish Government's publication of a National Civil Aviation Policy in August2015.
The event supported the Irish Historic Flight Foundation; a charity that celebrates Ireland's rich aviation heritage and one "that the IAA is very proud to support", said Nolan.
Representatives of all airlines servicing Ireland attended the Gala Ball, as did representatives of eight of the top 10 lessors. Other guests included Willie Walsh, CEO IAG, Stephen Kavanagh, CEO Aer Lingus, Christoph Muller, CEO Malaysia Airlines, Domhnal Slattery, CEO Avolon, Pat Byrne, CEO Cityjet , Sean Brogan, CEO Stobart Air, Dermot Mannion, Deputy Chairman Royal Brunei Airlines, Michel Cawley, Chair Tourism Ireland and Kevin Toland, CEO, Dublin Airport Authority.