Aircraft leasing, infrastructure development, asset ownership, airline stocks, new start-ups, emergent markets, supply chain investment, legacy or low-cost, long-haul or short-haul, scheduled or charter; aviation financing must be one of the most fascinating areas in which to build a career. It's also capable of destroying a CV and investment portfolio in a few weeks.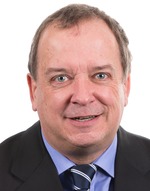 John Grant
Is any industry as vulnerable to third party events as aviation? Terrorist activity in Europe changed the whole tourism market for summer 2016 as Turkey suddenly became unpopular amongst Northern European holidaymakers, Egypt's major leisure resort of Sharm el-Sheikh remains 'closed' to many tour operators whilst Paris has seen a near 20% reduction in visitors through the summer. In the UK Brexit hovers over the economy and aviation; no decision on London's third runway, the sharp fall in sterling impacting travel overseas whilst generating new inbound tourism to London.
Airline consolidation, alliance creation and subsequent separation, emergence of the 'big three' middle-east carriers; significant equity investment by sovereign funds and airlines into other airlines. It may be exciting but it can equally be a flight path of some turbulence for any financier before any real safe landing and return can be made. So, how do you work your way through all of these distractions, select the right flight-paths and prosper?
There is certainly no shortage of data to help within the industry. In fact we coined the phrase 'Big Data' many years ago and continue to grow and grow data within the airline industry. Every day OAG receives 100,000 schedule changes from airlines as they flex capacity to meet changing market conditions, and processes 1.4 million flight status updates. In each of those schedule changes are vital pieces of operational information that provide insight into the industry; even a five minute time change or switch of aircraft type operating has meaning.
Historic data highlights future trends
For many of our customers, the starting point is to look at industry trends and developments rather than what happened yesterday or last week. Many of the events outlined earlier are just that, 'events', which, whilst creating some short-term change in the market over the course of time are 'smoothed out' over a longer more realistic time series or investment cycle. Certainly in terms of schedules and capacity, looking at a time series over a period of perhaps five or even ten years can provide more confidence in the market and its future direction than taking a shorter term perspective.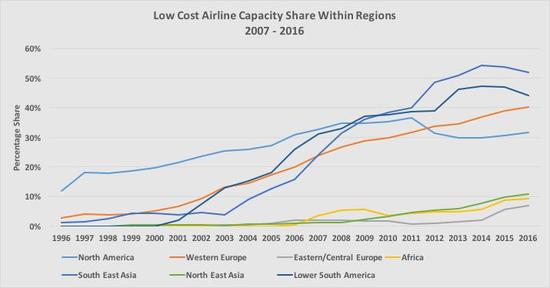 Source: OAG Schedules Analyser
Taking infrastructure development as a classic example, OAG supplies many major investment agencies, construction companies and analytical consultants that stretch back over twenty years. Many of those customers frequently look back over the last decade to get the broader picture around a market than review the last month's stories on Google. The global expansion of low-cost carriers in the last fifteen years highlights the point very well clearly highlighting the difference between the mature markets where capacity shares of over 40% are now realised and those three regional emergent markets where low-cost capacity has yet to break through and opportunity still remains.
Significant low cost traffic development opportunities remain
Such insight from an investment perspective is crucial although of course market knowledge, practical insight and regulatory environments need to supplement the data. From so many perspectives such data not only points to the future but also the operational and infrastructure requirements that are likely to be required to support such development. Too many airports have started new projects and had to change their user requirements mid-way through construction with considerable expense when a closer and more realistic assessment of how the market was changing would have avoided such embarrassment.
Using operational data to maximise infrastructure usage
And for any investment understanding the efficiency of the investment is crucial and no more so than in the area of infrastructure investment. Unlike aircraft capacity that can flex and move with market demand or mergers, infrastructure tends to hang around where constructed and making sure it gets worked as effectively as possible is crucial. Many airports have invested heavily to see carriers depart, launch a new strategy that makes them no longer a 'focus' market or just cease operation so making sure assets are fully utilised is extremely valuable.
In the example below, we have compared the weekly arrivals at Panama City, the base of COPA Airlines for one week in September 2000 against the corresponding week in 2016. A developing hub airport in 2000, Panama essentially had two peak arrival hours through the course of the day; a large amount of infrastructure for just two hours of intense activity. Today the airport has six peak hours of activity and no hour of the day is less active than in 2000, highlighting the growth of the airport, its base airline COPA and of course the increasing utilisation of the infrastructure and capital investment.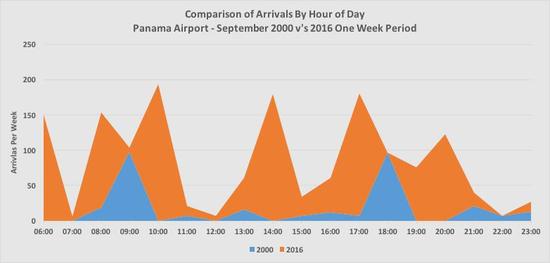 Source: OAG Schedules Analyser
Improving Terminal Usage at Panama
These two examples are but just a few cases of where OAG data has been used in the bases of major investment analysis and performance.
Competitive advantage through data usage
Major airport transactions rely heavily on schedules data for much of their key analysis. Issues such as available capacity for further traffic growth post-investment are frequently based on competitive analysis of surrounding airports using a mix of schedule and
traffic data
, in addition to historic trend analysis combined with econometric data, which provides the basis of traffic forecasting – however optimistic or pessimistic that may be!
Both aircraft and jet manufacturers use schedules, traffic and
flight status
data. An aircraft manufacturer pitching for a major aircraft sale wants to highlight the strengths of its aircraft and therefore understanding how it uses its fleet, typical sector lengths, configurations, block times and turnaround times are all valuable pieces of insight. When that traditional data is supplemented by flight status data by specific aircraft type or indeed at its most granular level by each aircraft registration, it can provide immense insights for manufacturers and engine suppliers.
Operational data supports airline performance analysis
Airline performance measurement has become increasingly important as investors ponder over share values and dividends. Numerous measurement criteria exist and there are established metrics that are used to benchmark performance, ASKs and RPKs are but two of those used on a frequent basis; especially at corporate level. For investment analysts, twenty four seven access to reliable data sets is crucial and being able to place an authoritative independent label on that data is equally as important. For many analysts flexibility of the data structure is crucial, being able to export information and drop it into bespoke analysis is crucial and indeed many airlines literally take raw files of analytical data for such purposes from OAG.
Data enhances ROI
Investment is ultimately similar to many other sectors. At one level infrastructure investment attracts major sovereign funds keen on securing consistent returns from 'gold plated' assets. Whilst at another level the volatility of airline stocks requires a rather more adventurous attitude towards investment that may on occasion reap handsome rewards but occasionally take longer to realise the expected return.
Aviation finance is not for the faint hearted; uncontrollable events take place every day but when the spikes and troughs are smoothed out the returns for many are positive. Success is frequently about understanding the risk and the reward. Experience tells us that the payback achieved from using schedules analysis, traffic data and flight status information is a handsome multiple for any investor.
John Grant is senior analyst at
OAG
.
September 22nd 2016.