Joe Gill looks at what features make a successful aviation finance centre. Against a backdrop of change on the operating, leasing and manufacturing fronts he profiles the key requisites for successful aviation finance hubs
Aside from being an asset class characterised by large unit values and multi billion dollar deals, aircraft are physically mobile assets. They also provide true global exposure as identical aircraft can be found operating with airlines around the world. For these reasons aircraft financing is a legitimate and financially attractive market opportunity to be targeted by financial services centres (FSCs).
The financing of commercial jets is a complex process that involves detailed auditing, accounting, banking and legal transactions. The development of an aircraft leasing industry has added to these complications as it adds layers of ownership to the process. So, manufacturers, airlines, lessors, bankers and investors need sophisticated service providers to ensure smooth transactions that provide security for the various stakeholders.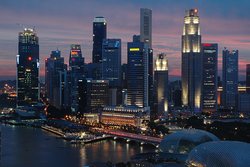 Singapore's financial centre is growing rapidly and is now an offshore hub for renminbi trading.
The installed commercial aircraft fleet worldwide at present is 20,700 units, comprised of narrowbody (single aisle) and widebody (two aisles) jets. Record order books completed over the past three years, and the secular growth displayed by air travel globally, ensure that this sector will continue to prosper despite short-term economic volatility. Existing forecasts project that the global fleet will expand by 120% over the next twenty years, implying the number of units to be delivered will be 25,000, valued at $3.1 trillion. Demand is being driven for both narrow body and wide body jets as airlines and leasing companies grow or renew their fleets to; (1) meet projected growth in demand for travel; (2) replace aging aircraft and; (3) meet more demanding carbon emission standards that require new generation airplanes. It is against this backdrop that the aircraft financing sector is expected to expand and develop.
The global commercial aircraft industry is dominated by the US manufacturer Boeing and the European producer Airbus. Together, they account for 95 p.c. of output at present, with smaller companies like Canada's Bombardier and Brazil's Embraer also developing commercial jets. Both the Chinese and Russians have ambitious plans for their commercial aircraft industries but neither have brought forward a viable aircraft model yet for use in mass volume markets.
Aircraft are owned primarily by airlines and leasing companies. The latter account for over 30 p.c. of the installed fleet and have expanded rapidly in the last ten years. Airlines used to own most of the fleet but have employed more sophisticated financing structures in the last twenty years. This helps them to manage their own finances and move expensive aircraft assets off of their balance sheets.
Every commercial aircraft will change ownership at least once in its life, and over a typical twenty five year timeframe will change hands many times. Each of these transactions involves a highly priced asset. A narrow body Boeing 737, for example, sells at over $50m a unit while the widebody Airbus A330 costs over $125m. Moving one of these planes and changing its requires extensive documentation, financing and legal agreements.
Imagine, for example, a new Airbus A320 being acquired by an airline to provide flight services. Then assume that airline decides to sell the aircraft to a lessor and lease it back for seven years. That single physical movement requires agreements between the manufacturer and the airline alongside contracts between the airline and the lessor. We must also assume the airline's bankers will want to approve any deal that impacts their lending arrangements with the carrier. This provides some insight to the complexity involved in moving aircraft between manufacturer and airline. Leasing companies themselves can also be principal buyers of aircraft which they then lease out to airlines. Or they may buy aircraft and trade them in buoyant markets.
Each of these requires complex and extensive documentations. And all of this activity takes place between corporations that are determined to maximise profitability.
To engage with this multi layered and highly valued industry, what does a FSC have to provide? The 'must have' list includes:
1. Technology
FSCs that can ensure aviation financiers have leading edge connectivity will help their case for mobile investment. Financing of aircraft requires extensive exchanges of data, reports and legal documents that require fast, safe and price competitive communications. Telecoms infrastructure is therefore a critical component of any decision making process.
2. Auditing skills
The presence of a world-class auditing function is critical for the operation of multiple corporate entities that invariably form part of the aircraft financing market. The ability to provide sufficient resource to manage a broad range of audits quickly while satisfying all relevant domestic and international regulatory authorities is important for parties engaged in owning and trading aircraft assets.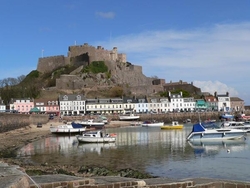 Mont Orgeuil, in Jersey, a leading offshore centre.
3. Banking skills
The availability of dynamic banking services that can respond promptly to the needs of aircraft financiers is crucial. By their nature, aircraft tend to change ownership on a frequent basis and the financing of those deals can be complex and fast-moving. In that context bankers who are flexible and have strong credit decision and allocation skills will aid aircraft financing entities in completing deals rapidly.
4. Legal transactions
The ability to provide a legal framework that meets corporate and aviation specific domestic and global regulations is a major issue. Lawyers who can manage a range of customers while meeting confidentiality, compliance and personnel requirements will make an FSC attractive.
5. Regulatory systems
FSCs that target aviation finance functions must have regulatory frameworks that facilitate the easy passage of aircraft ownership and financing across world markets. The regulatory oversight of aviation is extensive and includes directives and treaties across the globe. The existence of regulatory approval systems in an FSC that allows aircraft owners to move assets smoothly is an important advantage.
6. Lifestyle attractions
Aviation finance tends to be a relatively high income activity, with many employees enjoying remunerations materially above average industrial salaries. They can have corresponding ambitions to have lifestyles that are supported by the geographies in which they work. Therefore, it is imperative that any FSC with a strategic interest in aviation finance is able to show an ability to provide infrastructure, leisure, accommodation and environmental advantages that make it appealing for mobile investment to choose their location.
7. A supportive taxation regime
A tax regime that allows corporates and individuals to generate after-tax income levels that are globally competitive is a key input to deciding on locations. Given the large sums of money involved, corporates will want structures that legally maximise their shareholder returns.
Equally, high earning employees will be attracted to those locations that offer highly competitive personal income, pension and capital gain taxation regimes.
8. Connectivity
Because of its global standing, aviation finance requires extensive travel by executives engaged in marketing, financing and administration of aircraft and their funding. It is therefore important that an FSC can provide connectivity that gets executives to and from those markets where customers reside. For aviation, that implies global connectivity and FSCs looking for such investment must be able to provide direct or hub flight connectivity and ample rail and ground transport options. Being able to access these at competitive travel costs is also an important matter.
9. A supportive Government
An FSC that can show its domicile Government is highly supportive of the aviation finance sector also have an advantage on global markets. Those Governments that can prove their commitment and consistency in investing behind the aviation finance sector will help attract international investment.
10. A skilled workforce
The availability of a skilled workforce to operate within the aircraft financing industry is of critical value. Given the role of English as the spoken language in the global aerospace sector, it is essential that FSCs that show the ready supply of relevant and qualifed personnel who can support the growth and development of the sector for an elongated period.
A package that addresses these key factors will help any FSC that has a strategic interest in securing and developing aircraft financing expertise. It will also create the potential to establish a cluster of aircraft finance providers who can leverage off each other's competitive strengths. For example, a leasing company that has immediate access to expertise in aircraft taxation, registration and air finance legal services can offer a compelling product to those customers who want turnkey solutions to the business of jet funding.
Aviation finance is a large and liquid component of the global financial services industry. By definition it is a globally mobile business which seeks out locations that can augment its efficiency and logistical effectiveness while optimising the taxation impact on service providers and customers alike. A financial services centre that targets this industry could rapidly garner a scalable business which enhances and magnifies the benefits of having aircraft financing as a core competency in its centre. Given that opportunity, aviation finance warrants careful study by FSCs who are targeting growth and expansion.
Joe Gill is Consulting Editor of Aviation Finance, and is a leading aviation sector analyst in Europe, specialising in short haul airlines such as Ryanair and Easyjet. He works in Bloxham Stockbrokers, Dublin, Ireland.

This article was first published in Aviation Finance, September 15th 2011