As CDB Aviation moves into its next phase of life as a maturing global leasing platform new CEO, Patrick Hannigan, discusses the value of portfolio acquisition as a means of new customer acquisition, the logic behind the expansion of the C suite to increase focus on risk management and identification of growth opportunities and his plans for the next three years.
CDB Aviation was extremely busy last year. It executed 89 aircraft transactions, signed lease transactions for 54 aircraft with 19 customers, and entered into agreements to sell 22 aircraft and to acquire 17 aircraft. It also acquired 40 aircraft on operating lease. In total it signed financing transactions to the value of $2.49 billion. At the year end its owned, managed and committed fleet comprised 420 aircraft and its customer network included 68 lessees across 37 jurisdictions.
'This past year's continued growth in our operations is evidence of our unwavering commitment to execution and progressing our highly competitive position in the world's key markets,' says newly appointed Chief Executive Officer Patrick Hannigan.
The company enjoys a privileged position internationally, being a wholly owned Irish subsidiary of China Development Bank Financial Leasing Co, a 35-year-old Chinese leasing company that in turn is backed mainly by the world's largest development finance institution, the China Development Bank. CDB Leasing is the bank's only leasing arm and, while listed listed on the Hong Kong Stock Exchange, enjoys a Chinese sovereign credit rating. As a consequence, CDB Aviation itself is rated Investment Grade by Moody's (A1), S&P Global (A) and Fitch (A+).
Over the past three years the young aircraft leasing platform has evolved into a full-service, global platform with a swift building of its team, which now numbers 117 employees, including 34 hired over the past 12 months.'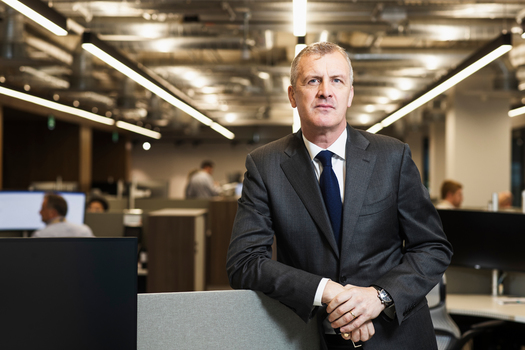 CEO Pat Hannigan: 'The sovereign rating we enjoy does make a difference because it means we can really deliver on big numbers if we need to.'
The company says that, with the goal of furthering growth momentum, last year it continued to build out its top-tier operations and cultivated a culture of strategic change.
'Our imperative is to remain steadfast in efforts to enhance efficiency and streamline operations to better serve the needs of business and customers,' says Hannigan, claiming that the company's new leadership is 'razor focused' on successfully effecting a clear path to the next iteration of its business model. 'With our shareholder China Development Bank's backing, we will continue building on our success with a clear focus on … growth … measured through our customer relationships.'
Speaking to Aviation Finance, Hannigan emphasised that the platform, which has chosen for practical reasons to locate all the members its senior executive team in Dublin, Ireland, will also work closely with its shareholders over the next two to three years 'to see where we take the business from here.'
In his new position, the former President and Chief Commercial Officer says his day job 'is basically managing a very active platform and to position each of the product specialists to be able to move when they decide the time is right to move – whether that's to buy a portfolio, to set up a portfolio, to do a lease back deal or whatever.'
Looking to the immediate future, he anticipates he will do this in a reasonably benign environment, 'with slight growth over last year but nothing materially changing'. The fact that it's an election year in the US may result in a bigger increase in world trade as trade tensions are relaxed.
'But that said, I think we will still be watching our airlines carefully. We still think there are pressure points within some economies where there has probably been a bit too much supply and they are finding it difficult to get yield in the airlines and therefore profitability. But then, that's business as usual for us – we do that all the time.
Last year CDB Aviation experienced its first major potential setback, with four aircraft on lease to Jet Airways, the bankrupt Indian carrier that ceased trading last April. 'We got hit by Jet, but we recovered quickly,' Hannigan says. 'We took four airplanes out and I think we were actually one of the first lessors to move airplanes outside of India. When we moved on Jet we made a very quick decision and we actually worked with them before it became it official.'
In terms of individual economies, Hannigan notes, there's a lot of competition in India and in Thailand – 'though that's not to say that the markets can't take it.' But, he adds, 'the real question is how quickly the market can consume the supply of airplanes. It's quite easy to get airplanes into a country, as long as they can get slots.'
But in some countries, like China for example, pre-approval is required. 'There it's very heavily regulated and that leads to much a more balanced supply and demand equation. In some of the other countries I think we are probably seeing too many airplanes going in and not being able to get the revenue yield they need. So you have to watch carefully to determine the airlines that are strong or that are weak and whether they'll be able to ride a storm. We see it in Thailand and we see it, to a lesser degree, in Vietnam.'
Hannigan says that the outlook for this year will obviously be heavily influenced by what happens in respect of the Boeing MAX situation and the timing of that will drive a lot of what happens on the supply side. 'That's something that is going to play itself out in 2020 and over 2021 and 2022, as well,' he says.
'Boeing is really going to have to take a fundamental re-look at who can take aeroplanes, when can they take them and when can the system support those airplanes to deliver. Remember, they have shut production as of last week and they will need to ramp that back up again, which is not easy.'
When Hannigan joined CDB Aviation three years ago as CCO one of his priorities was to set up a robust trading team that would actively sell. 'We had not been selling assets before then at all. So we started actively trading back in 2017/2018. And I honestly thought that the window was about to close at that time and that we should be as proactive as possible,' he recalls.
But not everything is predictable. 'It seemed that the industry cycle had gone on forever at the top and could not sustain that. And guess what? Here we are three years later and it's roaring on. In 2018 we were very proactive in buying portfolios from other leasing companies. We didn't do that in 2019, because it became much more competitive with the ABS market coming in much more proactively. Now players in that space are ending up being our customers, bizarrely enough.
'Behind this, of course, is the wall of liquidity created by the post-2008 financial crisis and we shouldn't be surprised that it needs to find a home. A range of asset classes have benefitted from the search for yield and we are no different. There's been a big growth as a result in in the investment communities understanding of the industry, probably helped by the likes of the ABSs and the providers of capital by way of other structures.
'We have been a major beneficiary of this for the last three years because we had assets that we wanted to sell – remember we have nearly 200 new airplanes on order and in this industry there is a logic to having as new technology as you possibly can. That's not just for ESG reasons, which is a whole separate discussion, but just from a pure practical perspective. As assets gets older they get more expensive to maintain.
'So it's a good discipline to renew your fleet, to keep it fresh. If you are selling 10 per cent of your fleet a year, then you'll renew your fleet in 10 years. And that's a good benchmark and we have been pretty much on that number for the last three years.'
But, Hannigan adds, there comes also comes point where a platform cannot just be a seller of assets and requires growth as well. 'We have put a fairly sizable platform in place here, we have 117 people, up from around 30 three years ago. That team is experienced in a different product segments and can take advantage of the current environment where it's good to trade assets. But equally they can bid on portfolios, do sale & leasebacks, as well as placing brand new equipment coming from manufactures. So we have built in growth in our order stream, which is a good story.
'And we will continue to work with the manufactures to replenish our order streams when the time is right and we see that we need to stock up again. We will be a long term buyer of aeroplanes from the OEM's; there is no way that we are going to change all of a sudden and do something different.
But growing volume outside of the OEM channels remains a challenge. Here the strength of its balance sheet and access to capital helps it participate effectively in the sale & leaseback market. 'When we identify customers we want to work with for a long-term partnership, we can put a lot of money on the table. So we have done large deals for up to 14 aircraft and deals involving up to seven wide-bodies – that's half a billion dollar deals, maybe even bigger. That's something that suits us because we have access to capital and we can move quickly on it.
'Clearly we will trade some of that down over time and then we will renew it and keep doing that, particularly with those customers whose business models we really believe in. We have no fear of going back for more, but we will have to sell on metal, too, and they understand that, that's the nature of the industry.'
Emphasising the importance of access to capital, Hannigan says 'the sovereign rating we enjoy does make a difference because it means we can really deliver on big numbers if we need to. We came in with this team in January 2017 and by the end of June we had doubled the size of our order book. The Chinese state can move pretty quickly when it needs to, so we can move quickly and we can move with a significant cheque book.
'People are also increasingly comfortable about our ability to execute and I think that's really important, too. For example, we transitioned six or seven widebodies last year and placed 18 of our 20 of our Embraer 190s coming of lease, very difficult assets to place. That's a lot of metal to move and its down to people and to our relationships with the airlines.
Although CDB Aviation was not active in portfolio acquisitions last year – 'We saw value there in 2018 but we didn't see value there in 2019' – it still see strategic benefits in that approach. 'Portfolio acquisition is basically good for us because it gives us more customers in a very short period of time and we are in that phase of our development where getting more customers is a big part of what we are trying to achieve. Unless you have a customer it's very hard to do new business and having a relationship with them that really makes a difference,' Hannigan says.
'So while we didn't do that in 2019, we were very active in 2018 and this year we'll bid on everything. We have set the business up now so that we have the teams to look at each of the product lines, concentrate on them, and see exactly where the right risk/reward options are and go for them.
'I think the important point is that you are managing your portfolio and you are managing the opportunities as they come up and putting yourself in a position that you can act in a risk situation or you can act in a situation of opportunity.'
This was an important consideration in Hannigan's decision to strengthen the platform's CIO and CMO focus. 'Last year we made the decision to move the whole C Suite to head office, because we think it will work better that way,' he says. 'And we have also created two new positions on C suite, with Craig Segor recruited as Chief Investment Officer and Peter Goodman promoted from head of EMEA to Chief Marketing Officer.
'The challenge for me now is to ensure the team is working as a team. We are a multi-product company and when you are dealing with different product lines it can almost involve "mini cycles" within the bigger industry cycle. So when you try and manage your growth path you need to focus on such things as managing risk and counter party exposure, managing asset exposure – all these things need concentration to get the best decisions. By splitting my former role effectively into two, I think we can achieve that.
'We have 196 aircraft on order now and there's a huge amount of work involved in managing that. It's not as simple as saying, "we have 196 airplanes, let's go and find customers", there's a lot more to it than that. When you have OEM production issues, as we obviously do, you have to help your customer. So we are spending a lot of time talking to airlines helping them out with their current issues.
'And obviously further down the line, when this all gets sorted out, which it will do, then we have a big task of placing lots of airplanes. And that's what Peter Goodman and his team will focus on in particular.
'And on the buy side, again you need focus. There's the whole trading function, the buying and signing, portfolio consolidation within the industry, M&A if you decide to go that route, all based around decisions on deployment of capital. And you have multiple options at various times, so you need somebody who'll be able to concentrate on that, which is where Craig Segor comes in. He has worked with us as a consultant over the last three years and he's a quality individual.
Hannigan freely admits that one of his big concerns for the next few years is that as more entrants enter the aircraft leasing and financing space they are going to be trying to recruit his best people. 'So quite frankly, holding onto our best people is a priority for me. Good people don't come cheap but if you've got good people who can make good decisions they can save you a hell of a lot of money, they can save you millions of dollars on crucial decisions.
'I give a lot of credit to my predecessor in this job, Peter Chang. He had a philosophy which was that he avoided micromanaging people. We have deal teams and they take on responsibility for what is, in practical terms, their business. So there is a lot of empowerment. But then with empowerment comes accountability. That is the philosophy that Peter started and I bought into it from day one. And I'll make sure that that's the way we run this business going forward.'
Asked about the expectations of its sovereign-backed shareholder Hannigan says the KPI's cover a range of items. 'The important ones are placement of airplanes, they want to make sure we are placing our them well in advance of their deliveries and they want us broadening the customer base – that is really important to them. So there are targets around the number of new customers because, like me, they believe that you don't have a business unless you have customers.
'In terms of financial returns, pretty much the standard metrics are used. ROE requirements, numbers of aircraft at the end of each year, pretty standard stuff. And they are obviously focused on the age of our fleet, so they will want to make sure that we renew our fleet and that's important, too.'
This article was published in the January 23rd 2020 edition of Aviation Finance. (Vol. 10 No 2).