Just two weeks ahead of Brexit, the UK Government has issued an ambiguous signal regarding state aid conventions in Europe as it made clear it was prepared to provide financial assistance to help keep domestic carrier Flybe afloat. The response from competitive airlines has been immediate with Ryanair's CEO, EasyJet and AIG strongly criticising the move. Questions are also being asked as to why the Government is prepared to help Flybe when it refused to provide any help for Thomas Cook last year. A former lecturer of the Ryanair CEO, Michael O'Leary, Trinity College Dublin economist and pro Chancellor, Sean Barrett (pictured) told Aviation Finance: 'subsidising airlines to do something that is inefficient may not be a good idea'.
Michael O'Leary has been widely quoted as one of the critics of the UK Government move, which he castigated as
'a bailout to billionaires'
.
IAG chief Willie Walsh lodged a complaint with the EU about the UK Government's 'blatant misuse of public funds, while the European Commission warned that any state aid should not distort competition. easyJet also joined in the complaints about contravention of rules on state aid.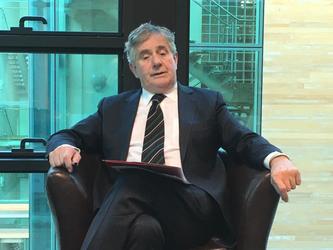 Sean Barrett: 'a subsidy usually ends up in the pockets of the producer rather than the consumer'.
These complaints have been rejected by both Flybe ad the British Government, claiming it has complied fully with all state aid regulations. Drawing a distinction between Flybe and Thomas Cook, it said that had had it provided support to the latter it would have been merely throwing good money after bad, whereas it sees Flybe as having a future.
The UK government support is being provided by way of a deferal of GBP100 million due from Fylbe by way of the GBP14 per passenger Air Passenger Duty levied by the carrier on behalf of the government. As a predominantly internal carrier operating services between 24 UK airports, Flybe has consistently argued that it and its passengers, in effect incur a double APD charge on return flights compared to passengers of arilines with a stronger international network.
In addition to deferring the APD due the UK government has said it will review the basis on which the duty is levied. The agreed deferment of payment is also being provided subject to agreement from the existing owners – Virgin Atlantic, Cyrus Capital and Stobart Group – to provide additional investment. The deal has been characterised by Ryanair's O'Leary as a "billionaire bailout'.
TCD economist Barrett, a leading authority on transport and aviation economics, and a former Irish Senator, noted that this is not the first time that the Ryanair CEO has had cause for complaint with the UK and European authorities. 'The Ryanair relationship with competition policy regulators in aviation has two other dimensions - lack of access to slots at hub airports by new entrant airlines and complaints of unfair competition of Ryanair by smaller airports,' he said.
'Since slot allocation at hub airports operates on a grandfather rights basis, favouring legacy airlines, this restricts the expansion of non-grandfather airlines such as Ryanair. When Ryanair develops services at previously empty airports many of the established airports complain to the EU that this is unfair competition. Ryanair's annual report cites seven complaints of breaches of competition law under investigation at small airports' Barrett said.