Leasing Business
GE Capital has sold a total of 61.7 million shares, or about 55 per cent of the shares it acquired as a result of the merger of AerCap and GECAS, raising just over $2 billion in the process. This comes in the wake of good Q4 results for the lessor, with CEO Aengus Kelly anticipating strong demand for lift in China 'will further exacerbate the supply demand imbalance for aircraft and engines pushing lease rates higher'.
---
The write down of aircraft trapped in Russia and Ukraine had a significant impact on the financial results of BOC Aviation and Nordic Aviation, both of which reported 2022 results within the last two weeks. Both, however, also enjoyed strong second half performances which kept them in the black for the full year.
---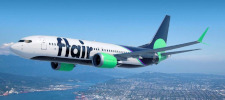 The dynamic tension that underlies most lessor/lessee relationships has been publicly evidenced in a number of recent events, most notably the highly public dispute between Canadian ULCC Flair and Airborne Capital, but also in the affairs of India's Spicejet. The debt/equity deals being reached by Brazil's Azul with its lessors reflects the level of compromise needed to ensure mutual benefit in difficult circumstances.
Airline Economics
US carriers JetBlue Airways and Spirit Airlines said they will press ahead with their planned $3.8 billion merger to create what would be the fifth largest airline in the US despite the efforts of the Department of Justice to block the transaction on antitrust grounds.
---
The chill of wider industry concerns about potential winds of recession are being seen in some areas of the commercial aviation industry, with United Airlines raising investor concerns about the pricing power of airlines.
---
Developments
ACG in 10 plane deal with SAS; ALC places A350-900s with Air France; Avolon delivers first three of five A320neos to ITA; Luxair to take four B737-8s; JSA completes Westjet SLB delivery; Castlelake Term Loan B brings IG status closer?; Stratos to acquire Magi Aviation Capital; Southwest signs up for SMBC Aviation Capital carbon credits; Embraer returns to profit, closes $200 million EXIM facility; Hi Fly adds A330-200 to fleet; airBaltic wet leases to meet growing demand; Saab 2000F inaugural flight; ACIA Aero enters Canadian market; Willis Lease made $10m in 2022; S Korea drops operating lease tax demand; TAP CEO dismissed, privatisation still on course; SMBC Aviation Capital names new VP risk.
In this issue
The decline in the share price of AerCap, from its high for the year to date of $65.47 on March 2 to $52.43 this morning, partly in response to the disposal of a large holding of shares by GE Capital acquired as part of the consideration for the GECAS merger with AerCap, highlights one of the distinctions between the fundamentals driving airline stock values and those driving aircraft lessors. These differences are highlighted in a number of other articles in this issue, with comments made by industry veteran and ALC Executive Chairman Steven Udvar-Hazy at yesterday's J.P. Morgan Industrials Conference 2023 in New York City particularly pertinent.
---
Aircraft Manufacturing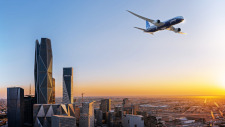 While new orders were slow to arrive for Boeing last month there's been a significant upturn this month, with substantial orders for Dreamliners from the two PIF-owned Saudi Arabian carriers, Taiwan's EVA Air and Lufthansa.
---
Sponsored Feature: Aviation Sustainability
While most aircraft lessors (85 per cent) have developed an ESG strategy or Sustainability Roadmap, less than a third have sustainable finance as part of the firms' overall finance strategy, according to a new survey undertaken by EY's Global Aviation Division. The survey identified that 15 per cent of respondents would be interested in obtaining funds using sustainable loans while 46 per cent are interested in the potential of both sustainable loans and sustainable bonds.
Aviation Finance
The opportunities for providers of debt in the commercial aviation sector continues to attract new entrants as well as the expansion of experienced debt providers. GA Telesis and Tokyo Century Corporation have launched a new joint venture lending platform, HALO AirFinance, while Investec Aviation Finance has also announced the establishment of a new aviation debt platform, this time in partnership with a 'major Japanese institutional investor'.
---
Vmo Aircraft Leasing has announced the upsizing and extension of its 2021 five-year senior secured warehouse credit facility from $600 million to $1.225 billion. The upsizing more than doubles the capacity of the facility and brings new banking partners into the credit facility, including BNP Paribas, Goldman Sachs, KeyBank and Societe Generale.
---
Airline Economics
IATA says that, based on January's traffic results, the recovery in air travel demand is continuing in 2023. RPKs in January rose 67.0 per cent compared to January 2022 and globally traffic is now at 84.2 per cent of January 2019 levels.