Greg Conlon, former President and CEO of Milestone Aviation and EVP, Aircraft Trading, at GECAS, has been promoted to the role of President and CEO of GECAS, while Alec Burger continues as President & CEO of GE Capital and will also now serve as the Chairman of GECAS. In responding to questions from Aviation Finance Contributing Editor John Stanley, the new CEO of GECAS has a positive outlook for the long-term growth of the industry, anticipating that passenger travel and demand for aircraft will remain vibrant, while acknowledging that the lessor continues to monitor narrowbody production and deliveries, the intensity of competition in the aircraft leasing sector, and continuing geo-political uncertainties.
In an industry blessed with an abundance of skilled and experienced professionals, Greg Conlon's pedigree stands out. Having worked with Boeing Capital Corp and McDonnell Douglas Finance, he joined GECAS in 1999 when the company acquired PK AirFinance. In 2005 he transitioned to the GECAS commercial aircraft leasing business, with responsibility for customer relationships in Canada, the Caribbean, Iceland and Greenland. In 2011 he was promoted to SVP Sales & Marketing for the US Region and in 2016 became Executive VP for Aircraft Trading. In November 2018 he took over as CEO at the lessor's helicopter subsidiary, Milestone Aviation, while retaining responsibility for aircraft trading for GECAS as a whole.
At Milestone his challenge has been to hasten the lessor's broadening of its business base and to use its position as an industry leader to instill a much needed discipline into the medium and heavy rotorcraft leasing space. Having begun life as a dedicated O&G helicopter leasing platform, when it was acquired by GECAS for $1.775 billion (plus the assumption or payoff of Milestone's existing debt) at the end of 2014 almost 90 per cent of Milestone's portfolio was employed in that sector. But over the past 12 months Conlon and his team have made strenuous efforts to diversify out of 'heavies' and into alternative primary missions such as Search & Rescue, Utility and Emergency Medical Services. Last July Conlon revealed in an interview with this publication
(Aviation Finance, Vol. 9, Issue 14)
that the proportion of O&G dedicated assets had already been reduced at that stage to close to 60 per cent.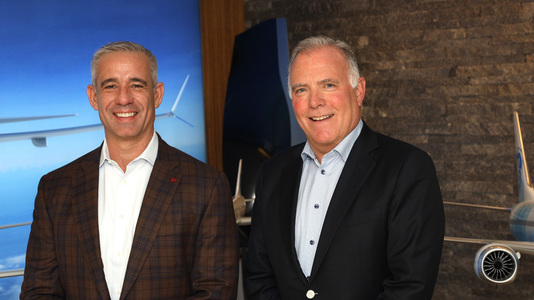 Alec Burger (right) has moved up to Chairman of GECAS and continues as President & CEO of GE Capital, while Greg Conlon, former President and CEO of Milestone Aviation and EVP, Aircraft Trading, at GECAS, has been promoted to the role of President and CEO of GECAS.
Now Conlon has taken over at the helm of the mother ship, GECAS, effective 6th November, at a time when GE Capital is making determined efforts to reduce its asset size and its debt/equity ratio. Announced last August and expected to close by year-end, the sale of its PK AirFinance business to Apollo Global Management, for example, and of a related $3.6 billion portfolio of loans to Athene Holding, was part of this process.
'This sale is aligned to GE Capital's overall strategy to become smaller and simpler, and our commitment to reduce our assets by $10 billion in 2019 is now more than halfway complete,' GE Capital CEO Alec Burger said at the time. Last July Burger also said: 'We continue to focus on shrinking GE Capital's balance sheet, achieving a debt-to-equity ratio of less than 4x by 2020, and supporting GE Industrial growth through our remaining GECAS, Energy Financial Services, and Industrial Finance businesses'.
Commenting on Conlon's elevation within GECAS, Burger said: 'Greg is an experienced leader with deep and positive relationships across the industry and GE, and a personal track record of performance. It's my distinct pleasure to promote such a great GE leader to the helm of GECAS … Now is right time in the evolution of GECAS to have Greg as the dedicated leader of the business. As President & CEO, Greg will bolster GECAS' position as the business continues to deliver for our global customers."
There have been occasional flurries of speculation about the future of GECAS, which is an acknowledged jewel in the GE crown. But Burger's additional comments appear to allay such concerns. 'GECAS remains a strategically important and critical part of GE Capital. I am excited to see it continue to thrive under Greg's leadership,' he said.
Trends being monitored
Like other aircraft lessors, GECAS is carefully monitoring a few trends, Conlon said in response to questions submitted by
Aviation Finance
. Key amongst these are the outlook for narrowbody deliveries, continued intense competition in the aircraft leasing sector and a variety of geo-political uncertainties.
With regard to narrowbodies, the ongoing uncertainty around the impact of the Boeing 737 MAX grounding naturally remains an important concern, along with the record high narrowbody production rates. 'It is still too soon to predict the long-term impact of the MAX grounding,' Conlon says, adding that 'GECAS has been working with Boeing throughout the grounding and will continue to do so. We currently have 29 737 MAX in the fleet with an experienced team managing the portfolio, and strong OEM relationships. But it is difficult to project what the ultimate impact will be until the investigation is complete, the aircraft is recertified and returned to service, and deliveries resume.'
'There is a lot of competition in the leasing sector pointing to the attractiveness of the sector,' Conlon pointed out, adding that 'market liquidity for aircraft remains high with multiple active players and robust competition, particularly on commodity narrowbodies.'
Aircraft are core, portable and long-lived assets with attractive returns. This has translated into multiple new entrants in the leasing sector. 'GECAS is very well positioned to compete successfully despite the competition,' Conlon said. He also noted there have been pockets of credit weaknesses, some driven by currency fluctuations, but due to the 'ongoing solid demand for aircraft, most of those impacted fleets have been quickly redeployed. We are seeing some slowdown in air traffic toward the long-term average, but do not expect a downturn.'
Among specific geo-political uncertainties, the 'known unknowns' include ongoing trade talks between the US and China and between the US and the EU and political and social uncertainties in a number of other countries, including Hong Kong, Iran, Russia, India- Pakistan, Venezuela, and North Korea, amongst others. The fallout of Brexit remains an unknown, and there are some concerns about slowing GDPs across the world.
Conlon remains positive, however, about GECAS' ability to deliver in a very competitive market. He points to its deep domain expertise, with over 50 years experience in aviation finance, and the critical role played by its risk management discipline, supported by conservative policies. GECAS has consistently delivered attractive earnings and returns, he noted, despite ups and downs within the industry. 'We have the ability to do large, complex deals. We have 20 offices around the world with very strong redeployment capabilities, broad product offerings and a large and diverse asset base of approximately 1,150 largely core commodity commercial jets,' he said.
Conlon remains confident, too, that engine leasing will remain a very important segment for GECAS in the future. GECAS Engines is the world's leading engine leasing business, with over 700 engines owned and serviced. The company also supports airlines and investors with the lease, purchase and financing of engines from GE, CFM, IAE, Rolls Royce and Pratt & Whitney, through long and short-term leases, loans, exchanges and servicing.
'We expect this segment of the market to continue to grow and develop. Engine demand is highly correlated with aircraft demand and the expectation from both Boeing and Airbus is that the aircraft fleet will roughly double over the next 20 years, which means increased demand for engines and attendant spares,' he said.
Conlon acknowledged the delays associated with the engine manufacturers. 'We are aware of in-service issues affecting multiple engine types, which are not abnormal for new technology engines,' and points out 'In particular, our GECAS Engines business and our associated company SES have been working closely with CFMI in terms of support for the CFM LEAP engine fleet'.
'Engine reliability issues are to be expected when new technology is delivering significant efficiency with less noise. The manufacturers carry a lot of maintenance risk through their respective maintenance and warranty programs, motivating them to develop reliability fixes', he said.
GECAS has also taken a leadership role in the P2F conversion space over recent years and Conlon says he is 'excited' by the opportunities that now exist in the cargo conversion sector. 'We are taking a leading position with Boeing 737-800 P2F conversion slots with both Boeing and AEI which will enable us to serve the growing express air cargo market'. GECAS has 45 firm orders and 20 options for this aircraft.
GECAS is also taking the lead on widebody freighter conversions. In October it and Israel Aerospace announced the launch of the Boeing -300ERSF and the establishment of a P2F conversion programme dubbed 'The Big Twin' – denoting its status as the largest ever twin-engine freighter and over 90 per cent commonality with the factory 777-200LRF – an initiative that is jointly funded by GECAS and IAI. As launch customer and co-founder of the programme, GECAS will commit to 15 firm orders for the 777-300ERSF, including the prototype aircraft, with options on a further 15 aircraft.
'Our entry into these two programmes demonstrates that GECAS is positive about the outlook in the freighter market' Conlon continued. 'It is based on what we expect to see in replacement demand for aircraft retiring as well as the growth now being mainly driven by the rapidly growing e-commerce market'.