The agreement will see Goshawk Aviation Limited acquire all of the outstanding shares of SKY Leasing's (SKY) Irish subsidiary, Sky Aviation Leasing International Limited (SALI).
SALI's debut ABS issuance
was a winner in
Finance Dublin
Deals of the Year Awards 2018. Goshawk says the move will further enhance its business profile as the pro forma company will consist of 183 owned, managed and committed aircraft with a total fleet value of $9.1bn. The transaction is expected to close in the third quarter of 2018, subject to regulatory approvals and customary closing conditions.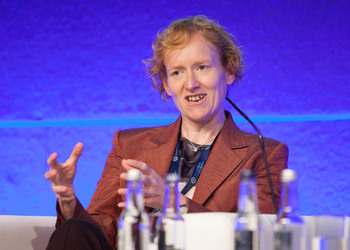 Goshawk CEO Ruth Kelly speaking during the Aviation Finance stream at the Financial Centres Summit, Dublin in October 2017. Kelly says SALI's high quality portfolio complements Goshawk's young, liquid, portfolio.
Goshawk will acquire the SALI aircraft leasing business comprising 51 owned and committed aircraft. The pro forma company will encapsulate Goshawk's commitment to a young fleet with a well-managed maturity profile. Goshawk's customer portfolio will be further diversified through the addition of 17 new lessees and 6 new countries resulting in a pro forma company with aircraft on lease to 65 lessees in 35 countries.
The transaction will be financed by a majority of unsecured debt financing, with assumption of the
S-JETS ABS
notes transferred with the acquisition and additional contribution from Goshawk's shareholders. These sources of funds will further diversify Goshawk's current financing sources. The financing profile of the transaction is overall credit enhancing to Goshawk, and will diversify its asset base and increase unencumbered assets.
With a pro forma fleet value of $9.1bn, this acquisition will place Goshawk as a top 10 leasing company within five years of its foundation in late 2013. Goshawk's growth has been supported by its shareholders, Chow Tai Fook Enterprises Limited and NWS Holdings Limited, as they take a long-term investment view on the aircraft leasing sector which meets their objectives of generating attractive and steady returns.
Brian Cheng, Chairman of Goshawk and Executive Director of NWS Holdings, said, "The acquisition is strategic and accelerates Goshawk's growth while maintaining the quality of its portfolio. We continue to be confident about the aircraft leasing sector and look forward to the further evolution of Goshawk in the years ahead."
"The acquisition of SALI represents an exciting milestone for Goshawk," said Ruth Kelly, CEO, Goshawk. "The SKY team has built a high-quality portfolio that aligns with our focus on young, liquid aircraft and furthers Goshawk's growth objectives."
J.P. Morgan Securities LLC served as exclusive financial advisor and Milbank, Tweed, Hadley & McCloy LLP served as legal counsel to Goshawk.