Cian Dooley, founding partner, Airborne Capital, says that it is already clear that onerous banking regulations are impacting on aircraft finance and they will make it progressively more difficult for banks to overcome their risk-weighted cost of capital requirements. In this interview Dooley talks about the current state of the aircraft financing market, how new capital coming to the sector is impacting the landscape and Airborne Capital's plans to help investors overcome the 'knowledge assymetry' evident in the market.
Airborne Capital is a new specialist aircraft leasing and asset management company that is targetting $5 billion of aircraft assets under management within five years. The company has received substantial backing from FEXCO Group, Ireland's largest privately-owned financial services company and is led by CEO Ramki Sundaram and an experienced management team that includes Cian Dooley and Anand Ramachandran.
Aviation Finance
spoke with Cian Dooley, founding partner of Airborne, about the company's plans.
Why have you decided to establish Airborne Capital at this time?
Over the past few years, aviation finance has attracted a lot of interest from new investors, many of whom have limited access to the deep levels of expertise required to invest and manage capital in this specialised area.
However intellectual capital has not grown in line with the financial capital that this sector is attracting, and it is concentrated with traditional players who in many cases are the vendors of these assets to these new investors.
Airborne Capital endeavours to fill this knowledge asymmetry by offering a full service aircraft leasing and asset management platform that can offer expertise free from any potential fleet ownership conflicts, backed by supportive shareholders and deep pools of third party equity and managed by an experienced team who are experts in structuring innovative financing solutions.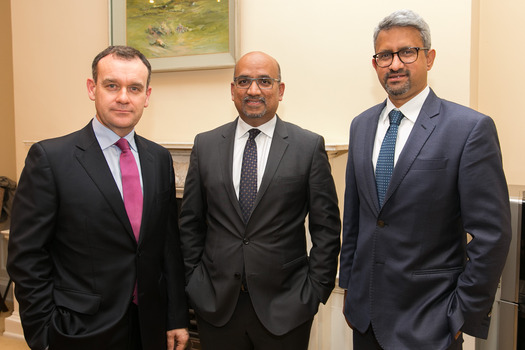 [L-R] Cian Dooley, Partner Airborne Capital; Anand Ramachandran, CFO Airborne Capital; and Ramki Sundaram, CEO Airborne Capital.
Airborne Capital intends to provide investors well structured and diverse investment solutions across the breadth of aviation assets and up and down the capital stack tailored to meet specific risk and return criteria individual investors are seeking.
What form of investor base do you expect to target for advice on aircraft assets and their management?
Aviation has attracted a number of institutional investors who have been looking for non-correlated, stable investments with a predictable yield. While it is fair to say we will be targeting such investors, one of the key strengths of Airborne Capital is that we are willing to work across the entire capital stack, and across all asset types. Airborne Capital thanks to this flexibility is uniquely positioned to service a wide array of risk-return propositions that may be required by investors. We also believe this positions Airborne as an ideal option for investors seeking specific, bespoke investment opportunities supported by strong origination, structuring and asset management skills required to deliver optimal returns.
What skill sets do the new management team bring to the business?
The management team has rich experience spanning the entire value chain of an aircraft, with the team members having spent time with manufacturers, airlines, lessors, banks and having managed aviation funds. One area we are particularly well-versed in would be innovative financial product structuring and capital sourcing. The advent of funding cost increase and progressively more restrictive financial regulations is pushing the traditional players to adopt a more "capital light" strategy while heralding the entry of number of financial institutions into this sector. The team at Airborne, over the past few years, have been in the forefront of facilitating investment by such institutions into this sector.
Collectively, the Airborne Team has financed over US$6.0 billion of aircraft assets in their various roles since 2014 despite the competitive market, and this was achieved primarily because we were able to develop innovative solutions, and source capital from a broader range of investors across all geographies.
Why did you choose to partner with FEXCO?
FEXCO is a highly successful multinational payments, financial and business solutions provider, and has a history of investing in successful financial firms (such as Goodbody and PICA), and supporting their growth. In FEXCO we found a partner who not only complements the entrepreneurial mindset of Airborne, but also provides access to deep pool of capital, global reach, and ability to support financial services firms. This makes them an ideal shareholder that can truly facilitate Airborne Capital to achieve its growth ambitions.
What are your expectations for the scale of investing in aircraft that will evolve over the next ten years or more?
While the benefits of investing in aircraft are well-known, to a select few investors particularly in established markets, we see a consistent inflow of new investors in recent years who are just starting to truly explore this area. This is driven by both the growth dynamics of this industry which is expected to require circa 35,000 new aircraft worth approximately *$5.0 trillion over the next 15-20 years, as well as the ability of investments in aviation to provide attractive risk adjusted returns as compared to other asset classes.
Will Airborne serve a global customer base?
While Airborne Capital will continue to service clients in the more traditional markets, as a function of its mandate to do innovative deals, we will be reaching out globally to all geographies for the purposes of finding issuers in need of our technical expertise and investors entering the fray. As such, Airborne Capital will definitely be serving a global customer base in terms of both issuers and investors. It is noteworthy to mention here that the team at Airborne Capital has spent time in all the leading global centres of aviation finance including New York, Dublin, London, Paris, Hong Kong, Tokyo and Seattle.
Do you have any preference for which segment of the aircraft market you will focus on eg narrowbody v widebody v regional or new v used?
One of the key strengths of Airborne Capital is that, we are not restricted to a particular segment of the aircraft market. Airborne Capital will seek to invest in transactions regardless of asset type, age, lease or credit, so long the risks associated can be managed and the return proposition makes sense so as to ensure investor requirements are adequately met.
What effect do you expect bank regulatory changes will have on aircraft financing over coming years?
We can already see the banking regulatory changes' impact on aircraft financing; our team has experienced the impact from both the issuer and investor sides. Traditional sources of financing subject to more onerous banking regulations have been finding it progressively more difficult to overcome their risk-weighted cost of capital requirements, and to grow the book. Moreover many banks risk models are better equipped for serving particular segments (in particular senior debt in young, new technology, in-production narrowbodies), leaving a latent unfulfilled demand for example in older assets, open asset balloons and mezzanine capital . While Airborne Capital will continue to service the traditional segments, it will at the same time be harnessing untapped value from the underserved (and therefore, less competitive) segments of the market.
Do you expect M&A activity in aircraft leasing to accelerate in 2018 and beyond as fresh waves of capital, particularly from Asia, enter the aircraft market?
M&A in aircraft leasing has been driven by certain investors looking to grow in a capital intensive business sector, while others looking to exit the business, mostly driven by the changes in the strategic direction of the parent company which owns such lessors. We expect this trend to continue together with the steady flow of capital from Asia (where aviation is witnessing its strongest growth) to both supplement and replace the incumbent capital sources.
Potentially we could also witness another wave of consolidation and M&A activity amongst the newer leasing firms in a future downturn if and when substantial mismatches appear between return promises / expectation and actual performance.
With regards to whether M&A activity will accelerate due to the fresh waves of capital, we have observed that new capital has an equal if not stronger tendency to fragment the market by starting their own platforms. Some of the fastest growing lessors in the market today are financed by new capital and were established only a few short years ago, and we have no reason to believe this trend will abate any time soon.
Will Airborne advise on both debt and equity financing of aircraft and what challenges/opportunities do you see in each side of these sources of finance?
Airborne Capital seeks to advise on both debt and equity financing; a core strength of the company is that it can work across the entire capital stack.
The challenges we face today, agnostic of whether investing in debt or equity, is that there is excess liquidity chasing fewer transactions. What becomes very important is therefore to be able to originate and invest in the right opportunity which provides an acceptable risk return proposition.
Our broad network of established and trusted relationships with airlines / lessors and our ability to enhance returns though optimisation of the capital stack, allows us to service investors whose requirements may not be met by traditional structures and/ or providers. A vast majority of the market is competing on certain "volume-play" themes with specific requirements regarding airline credit, aircraft type / age, loan-to-values, etc. In addition to competing within this segment, Airborne Capital will also be focused on structuring bespoke transactions with underserved "value-play" investment themes that better meet investor's risk-return requirements.
What are your five year targets for Airborne?
Over the next 5 years, we seek to grow Airborne Capital into an aircraft financing and asset manager firm working across the entire capital stack across a broad range of asset types, and airlines. In particular, one of our key long-term growth targets would be to have US$5.0+ bn of aircraft assets under management.
*Source: Airbus Market Outlook