CDB Aviation Lease Finance has put in place two of the three pillars it believes are fundamental to its emergence as a fully-fledged international leasing platform. The appointment of a new head of trading has rounded out the lessor's senior commercial team, which has attracted a number of leading industry executives in recent months, and is the final big piece in its team building jigsaw. It paves the way for its China Development Bank parent to embark on the final phase on this leg of its journey, deployment of fresh capital. China Development Bank, a wholly state-owned bank in the PRC, is one of the 3 Policy banks in the PRC, and the country's biggest foreign currency lender.
Ahead of his appearance at
the Financial Centres Summit, Dublin, 2017 on October 17
, an event co-presented by this publication,
Aviation Finance
CDB Aviation's Chief Commercial Officer Patrick Hannigan has told us that the aircraft lessor's considerable efforts in building a new, international team are set to enable the company to realise its ambitions to become "a market relevant, full cycle global player".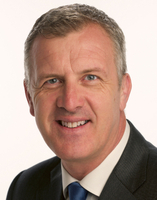 Pat Hannigan
On the marketing side CDB Aviation now has 15 sales executives, with four in Europe, three in North America, five in Asia and three in its trading team. More will be added in Europe and America's next year, Hannigan said. 'We now have global coverage in place with a team of highly experienced industry professionals.' CDB Aviation is also expanding to additional office locations. An 'Americas' office is scheduled to open shortly and it is understood that an office in Shanghai is also on the cards.
In parallel with this, the lessor has also done a lot of work with the manufacturers, with which it has approximately 200 aircraft on order. This includes orders placed at the Paris Air Show earlier this year for 105 aircraft, including 30 A320NEOs, 15 A321NEOs (plus 15 A321s converted from a previous order), 42 Boeing 737 MAX8s, 10 737 MAX10s and eight 787-9 Dreamliners.
The lessor's active portfolio currently comprises 210 aircraft, with an average age of approximately 4.5 years, placed with 45 customers in 25 countries. The last of the current batch of OEM contracts will be signed within the next few weeks, Hannigan said, and this will mark the culmination of that important pillar for growth.
The final pillar will be deployment of fresh capital in a full range of activities, from PDP financing, sale and leasebacks and portfolio acquisitions to actively trading aircraft. 'We're building a detailed financial plan for the next five years,' Hannigan revealed. 'We now have 400 aircraft effectively committed and we want to grow bigger than that.'
He pointed out that the lessor's parent is not new to the leasing business and, as a very substantial State-owned policy bank, it is dedicated to supporting overseas investment. 'It has been in the industry since 2006/2007 and it recognises that it needs to refocus from just buying assets to managing them. It is clearly committed to the next phase of CDB Aviation's growth and has asked us to steer the company into that phase. CDB as shareholder is actively engaged in the business and has demonstrated a speed of decision making, too, which is very supportive of what we are trying to do.'
As effectively a sovereign borrower, the speed of growth will not be constrained by availability of capital or cost of funds but determined by the opportunities in the marketplace, Hannigan said. 'We will be putting our budgets together for next year in the context of that bigger plan. The important thing we are looking for is to be relevant to the market throughout the cycle. We are very much looking at being a long-term player and building relationships with the airlines.'
While CDB Aviation wants to achieve a greater regional diversity in its customer base it recognises that this will be within the context of continuing growth in existing as well as newer geographies. As a Chinese-owned lessor, close to 60 per cent of its fleet is on lease to Asian airlines, the vast majority being Chinese.
Within Asia Hannigan also identified strong potential in India, where the current passenger growth of 20 per cent p.a. is probably unsustainable but could normalise for the foreseeable future around 10 per cent a year, making it a potentially strong market for the future. But he also identified good growth opportunities in other Asian countries, including Indonesia, Malaysia and Thailand.
'In the past conventional wisdom was to have your fleet split roughly one third each between America, Europe and Asia Pacific, but Asia is now too big a market for that ratio to hold. The growth potential for Asia is staggering and 40 per cent for that region could be much more realistic. But even talking in terms of regions is a bit academic nowadays. Asia is not a homogeneous market and today there are distribution options even within regions.'