Aviation Finance is collaborating with Finance Dublin, and Irish FS representative body FSI in a first ever focus on aviation finance from a jurisdictional point of view as well as a business point of view. Held in Dublin Castle, Dublin, Ireland, on October 17th 2017 in the context of a global financial centres summit the Aviation Finance 'conference within a summit' will feature the business outlook by a panel of leading aircraft leasing companies located in Ireland and in other centres around the world.
Speakers and sponsors so far announced are from, GECAS, IBA, ASL Aviation, Goshawk, Avolon and CDB Aviation Capital.
The
Aviation Finance
'conference within a summit' will have as its lead chair, Joe Gill, contributing editor of
Aviation Finance
, Ruth Kelly, CEO of Goshawk, Pat Hannigan, CCO of CDB Aviation Capital, Avolon's Dick Forsberg, and other speakers and sponsors will be announced at the Summit website here in the coming weeks.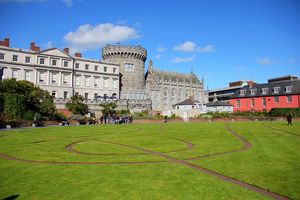 Dublin Castle
Topics so far announced:
Aircraft leasing Global Outlook and Discussion of capital markets and lease rate trends

New aircraft models, max and neo. Has the industry overinvested in 2012-16?

Banking and aircraft finance in the coming cycle

The development of capital markets products in aircraft financing in 2018

Lease Rates: current market, outlook and trading conditions

Consolidation in the aircraft leasing sector - what next



Financial Centres, aircraft finance hubs, Brexit and global capital market trends

The implications of Brexit for the single European and Trans-Atlantic aviation market, and its impact on aircraft finance - e.g. impact on route rights and visa restrictions

Special Focus: The rise of Asian aircraft financing

Factors affecting the outlook for the key aircraft finance hubs



Taxation and Regulation

The importance of Double Tax Treaty networks for aircraft leasing

BEPS

The development of capital markets products in aircraft financing in 2018 - the tax dimension

For further details The Financial Centres Summit 2017, Dublin.



For enquiries regarding potential participation by your company in the summit, through delegate or marketing opportunities please use the following: email link.

July 27th 2017.