Boeing will launch the 737-10 MAX with between 100-200 orders if they have managed to get traction from the market. We may even see some lessor orders in relation to that but Boeing's move has added potential risk to the market take up of the MAX 9. By introducing the 10, the MAX line would have 4 distinct sized options plus the MAX 8 200.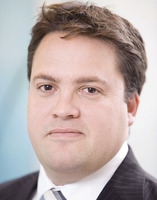 Stuart Hatcher, IBA
Boeing will progress the decision on the middle of the market aircraft - but possibly too soon to announce as they will ideally want a launch customer.
Airbus could announce the A350-1100 as a step up for the A350 program - but again possibly not right time for the widebodies if there is no new customer per se.
We may even see Airbus counter any threat they see from a middle market insurgence from Boeing by developing the A320 family to squeeze in more range.
Given the sale leaseback market is so overheated, I think there will be a lot of smaller lessors stepping up and buying new aircraft. A large number could be CEO/NGs with the option to upgrade to NEO/MAXs nearer delivery. So far this year only a handful of orders have been received from lessors for small quantities that are likely to be firming up of previously placed options. There is still a significant number of undisclosed orders for both OEMs too that could make an appearance - but it would be difficult to get too excited if these were announced.
So far this year for Airbus there have been 30 CEO orders, and only 7 for neos, with 19 cancellations for neos.
Boeing have taken 72 NG orders and 93 MAX aircraft - but lost 40 in the process.
If there are widebody orders, we may see some more for the larger 787s, A350s and A330neos but the upper part of the widebody space remains sketchy as fuel remains relatively low and operators are more likely to defer rather than commit at this stage - unless a new size category makes an appearance.
Apart from a few more orders coming from the usual suspects that place each year, I think the orders of note will come from the many China based lessors such as CCB, CMB, CDB, ICBC, PingAn, etc, etc. Whilst the opportunities for M&A might reduce amongst larger lessors, the diminishing returns from the sale leaseback market could drive more to place orders direct. In terms of which types, Airbus and Boeing appear to be still selling the CEO/NGs in response to demand or counter concerns around GTF delivery challenges.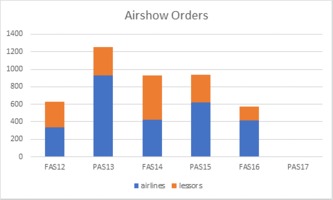 Source: IBA
We may find some of the more established lessors getting involved, but with smaller orders that counter any outgoing movements. Certainly those that lost out on CIT or AWAS will be looking for growth opportunities.
I think many of the largest lessors already have significant backlogs already either from direct orders or as part of a larger acquisition and so we may see a quieter show from the top 10 except for maybe a small top-up. Saying that, GECAS, Aercap or ALC could easily swing in with a large order if they want to grab a new launch offering or have managed to get some last minute slots.
Looking just at the top 5 (Aercap, GECAS, Avolon, BBAM and SMBC) they have 1,057 aircraft on backlog. However, it is rare for an airshow to go by without some order from at least a couple of them. Since 2012, each have only missed two airshows.
So in summary, orders for new launches if they happen as predicted, and orders from the Chinese lessors for a mix of CEO/NGs with movements into NEO/MAX should be on the cards. Whilst orders have been dropping off, even a relatively lean year can generate 500-600, so we may see much of the same.
Stuart Hatcher is Chief Intelligence Officer at IBA. For more see: www.iba.aero